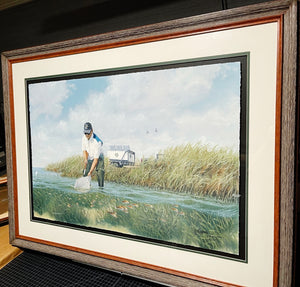 Saltwater Redfish Re-Stocking Scene Half Sheet GiClee Print "Releasing Reds" Number 72 Of 150 By John Dearman - Mint Condition, Brand New Custom Sporting Frame , Signed By John Dearman - After The Terrible Freeze Of February 2021, Our Coastal Bays and Marsh System are in Bad Need of A Major Restocking Program - This Wonderful Classic Features A TPWD Officer Releasing Redfish Fingerlings Into A Back Bay In Our Essential Texas Coastal Restocking Effort.  
Many Thanks To The Membership Of CCA - Coastal Conservation Association For All Their Tireless Work and Financial Support Of This Effort - Also Many Thanks To TPWD For Their Commitment To Make This Program A National Meritorious Effort - Second To None !  Print Dimensions 15" High x 22" Long - Frame 24H x 32L.  This Size GiClee Is Considered A Half Sheet - This GiClee Has The New Style "Deckled Edges" Which Frames Up Very Nice On A 3D - Floating GiClee Mount.
Yes Sir - Texas Sporting Art, LLC Has Always Donated Generously To Many CCA Chapters To Generate Much Needed Funding To Support The Critical Coastal Restocking Effort - We Have Been With CCA Since The Early Formative Years In Houston and Will Continue On Uninterrupted !  Join The Coastal Conservation Association CCA Today !  We Also Sponsor and Support The Texas Oilman's Charity Fishing Tournament and The Saltwater Legends Fishing Tournament As Well As Texas Ducks Unlimited and Other Fine Sporting Conservation Organizations - We Are Blessed To Be Able To Give Back - Viva La Tejas !
We Give Many Thanks To John Dearman For All His Classic Depictions Of Coastal Saltwater Fishing and His Support Of CCA, The Texas Parks and Wildlife Department and The Texas Sporting Art Industry !  Way To Go, John !!!
All Our Framed GiClee's Come With A Brand New Custom Sporting Frame, Top Of The Line Museum Grade Matt's and Are Covered With Premium Conservation UV Grade Glass – Each Of Our GiClee's Are Framed With A Custom 3D Floating GiClee Mount - First Class Custom Framing, Distinctive and Done The Right Way !  Yes Sir, The Best Materials Money Can Buy and Quality Framing Priced The South Texas Way ! 
*****  NO SHIPPING ON THIS ITEM  *****  BRAND NEW CUSTOM SPORTING FRAME  ***** 
Greater Houston, Victoria, Rockport, Corpus Christi, Austin, San Anton, Dallas-Fort Worth, Tyler, Beaumont and Other Texas Locations, Etc.....  Texas Sporting Art Will Deliver !   As Always Local Pickup Is Welcome and Available For You Loyal Texans' Located Near By Wharton(Halfway Tween Houston and Victoria) For A Quicker Pickup Option....   Stop By and Browse Our Extensive Inventory - You Will Not Be Disappointed - By Appointment Only ! 
Sorry, I Do Not Ship Large Framed Glass Prints - They Are Very Expensive To Pack and Ship, They NEVER Survive The Journey,  and They Rarely Make It Without Busted Glass and An Insurance Claim - Been There, Done That, Not Fun ! 
Another Outstanding Auction Listing - Brought To You By Texas Sporting Art, LLC From The Great State Of Texas ! 
Here At Texas Sporting Art, LLC We Always Shoot Straight and Aim To Please !  Yes Sir, We Buy, Sell and Trade With The Best Of Em' Lookin' For That Magical Win - Win With All Our Clientele.  Give Us A Try Today.  
Serving and Leading The Sporting and Wildlife Art World Since 1971 !